Taylor Swift Receives A Sweet Surprise From U2 Ahead Of Dublin Concerts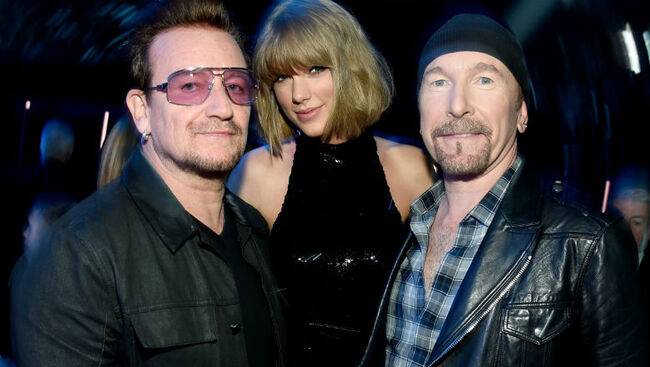 Taylor Swift received a sweet surprise from U2 on Friday afternoon (June 15) when the iconic rock band sent the pop superstar a bouquet of red roses in honor of her pair of shows in Dublin, Ireland as part of her "reputation Stadium Tour."
Swift took to Instagram to share a photo of the gift alongside a card from the band, which read: "From your Irish fan club… Bono, The Edge, Adam & Larry." As you'd expect, the 28-year-old star was overjoyed with the surprise and shared her excitement over the gesture in her caption. "Walked into my dressing room to find roses from @U2 and I WAS NOT READY FOR IT," she told her 109 million followers on the social platform. "I LOVE U2 I LOVE IRELAND LETS DO THIS CROKE PARK!!!"
Swift is scheduled to wrap the second leg of the trek in London on June 22 and 23, and begins another Stateside leg on June 30 in Louisville at the Papa John's Cardinal Stadium.
Swift's "reputation Stadium Tour" recently made headlines when she honored the city of Manchester with a touching speech for staying strong after the bombing that killed 22 people at the end of Ariana Grande's 2017 show. "You've shown that you're never gonna let anyone forget about those victims. And you've shown that you have such incredible resilience to keep dancing and to keep the innocence and to keep the joy," the star told the roaring crowd. "I just want to say, Manchester, it is such an honor to play for you tonight." Swift's speech served as a transition, before she launched into an acoustic performance of reputation cut, "Dancing With Our Hands Tied," on the second stage of her production set-up.

Keith Allen
I am born and raised in Michigan but love the Triad. I was sold as soon as I heard no snow, well very little snow I should say! I enjoy all kinds of music, sports, and playing with my two children Madison and our dog Beau!! Thank you to everyone...
Read more